The genius design lets you cook a whole meal without taking up much kitchen real estate. The key is that it takes things vertical. It has one 3.5-qt capacity slow cooker on the base level, and two 1.5-qt capacity slow cookers on the upper level. Just swing the smaller pots out of the way to access the lower pot.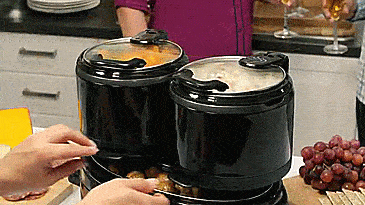 Many times you're cooking with your Crock-Pot among other Crock-Pot cookers, thus the room you have is quite minimal. With this unique 2-story version of a Crock-Pot, you can cook up to 3 separate items within the same space as just 1 slow cooker.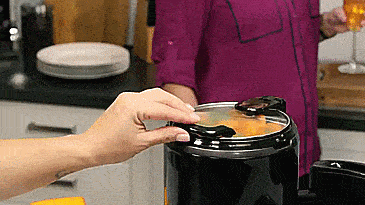 The pivoting arms swing open for serving and closed for storing. That design is just genius. The upper units have a hinged lid feature for easy serving, and there's even a utensil holder in the center that lets you easily and quickly grab some food from any of the 3 pots.
The double level Crock Pot offers three individual temperature controls to cook on HIGH/ LOW/ WARM heat separately in each unit. The pots are made of stoneware and the lids are removable for easy cleaning, it measures 13.8 inches tall x 16.3 inches wide x 21.6 inches deep, and it has a cord length of 24 inches.